So I showed up at English Racing yesterday morning at 9 a.m. They get started and find out that the shop that did the AEM wiring for me, didn't wire in the wideband o2 into the ECU. So that took a bit extra, they also wired in a switch for switchable maps (more on that later). So we got it on the dyno and after the basic stuff they went to turn up the boost. Well, the boost control solenoid was wired in wrong also, ha ha. So more time to fix mistakes. Started putting down more boost and power and we were getting some weird phantom knocks, when the motor really wasn't knocking. Turns out, the Evo knock sensor was also installed incorrectly (further back and closer to the head than the stock location), so he had to tune pretty conservatively for now, and when I get the knock sensor installed right, I'll be going back so we can get a better tune ironed out. Was happy with the work from English, would definitely recommend them to my fellow Nissan enthusiasts (before my car, they were working on a 1200 awhp GTR... lol), and I liked the tuning ethics they had (matched what I cared about).
Ok, now the switch. I got to California all the time (family), so I wanted a CA safe tune for when I drive the car down there (CA has the worst "high octane" gas in the country). However, I didn't want to be limited by that, so the other tune is for our high octane gas
The 403whp tune is with 91 octane CA pump gas (I drove down and brought up 12 gallons just for that purpose!). Ran on average about 17 psi.
I was running low on 92, so we had to put in a gallon of C16 for the 465whp tune. The tune is meant for 92, but until we get the knock sensor in correctly, I wont be running that tune on 92... just to be safe. On average, this tune was around 20psi.
Here's a stand alone pic of the 465 tune. The AFRs on the graph are about 1.5 higher than reality: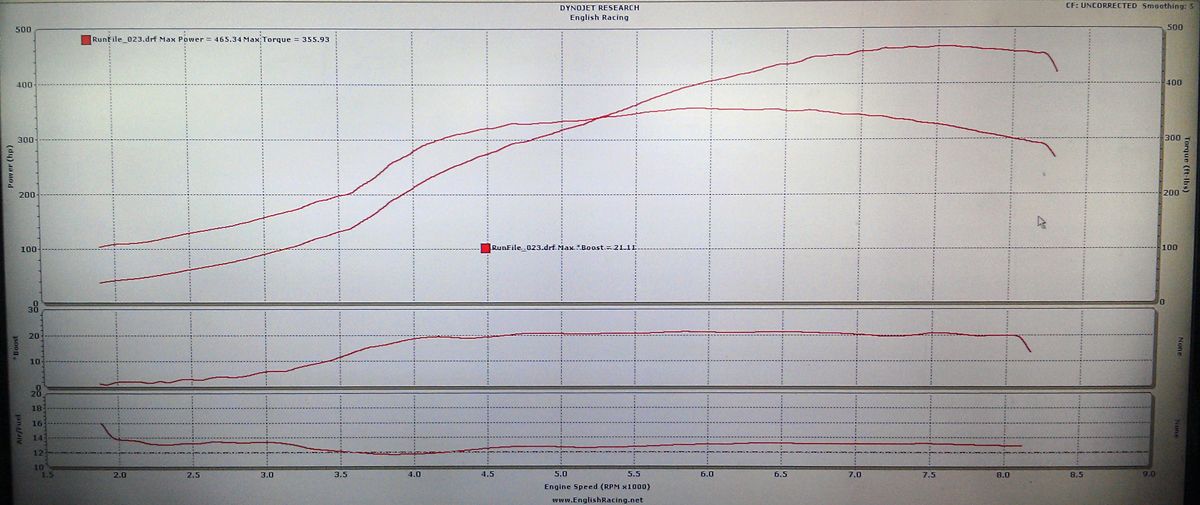 Car on the Dyno:
Left the shop at 8:30 p.m. It was a long day, lol. Front tire got a bubble in it also, so now I have to rock mismatched wheels for a bit until I get new tires (lame). Oh well, I'm just glad everything held together well (especially at 8,500rpm!). Car pulls pretty well now, low end feels like it used to, but the top end is there finally, which is what it really lacked!